Nicole's Wedding Guide
The single best wedding directory for Metro Ottawa.
Auntie Loo's Treats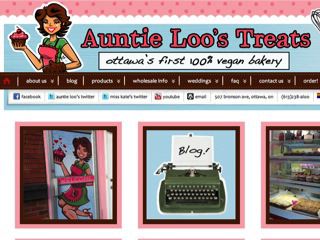 We are Ottawa's first 100% vegan bakery! That means we will never make anything using eggs, dairy, or any other animal-derived product. Our treats are made using small scale batches, and are always made from scratch. We use organic and local products whenever we can, and we believe in desserts that are fresh, not frozen. We are able to accommodate most allergies (many of our treats can be made gluten-free!), but always remind people that we do have most of these allergens on site, and cannot guarantee cross-contamination.

—Auntie Loo's Treats
Phone:
(613)238-ALOO (2566)

Address:
507 Bronson Avenue
Ottawa, Ontario
K1R 6J8


&copy 2007-2012 NWG Websites Ltd.