Nicole's Wedding Guide
The single best wedding directory for Metro Ottawa.
Quality Entertainment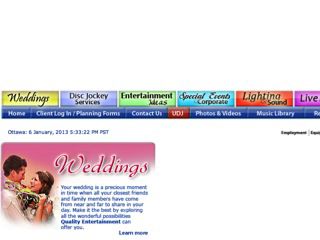 The responsibility of selecting the entertainment for your wedding or special event has been given to you. With hundreds of companies to choose from, the decision is difficult. As you search for the best company to trust, you will definitely encounter lots of websites that have been created by amazing graphic designers overnight. That's why we have taken the time with our website to show you real photos from parties and events that we have done instead of using images from the internet. We want you to know there is a difference. So as you browse through all our pages, you will see smiling happy faces of our clients and read letters from real people. We didn't start our company overnight. We have been here offering award winning service for over 15 years and our reputation has been established by providing reliable, friendly customer service by very talented people.

—Quality Entertainment
Phone:
613-52-MUSIC / 613-526-8742



&copy 2007-2012 NWG Websites Ltd.