Nicole's Wedding Guide
The single best wedding directory for Metro Ottawa.
Alta Vista Flowers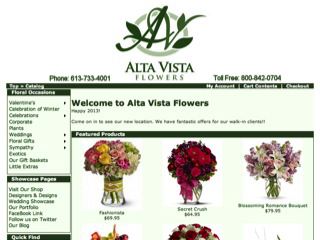 Alta Vista Flowers is one of the oldest flower shops in Ottawa; for over 60 years we have created memorable flowers for every occasion. Our quaint boutique style shop has resided for over 15 years in its current location perched on Bank Street and Collins Avenue near Heron Road. You'll find a wide variety of fresh flowers and plants and carefully selected vases and containers. We showcase what we do best, beautifully designed floral and botanical arrangements and cut flower bouquets-no giftware found here-just gorgeous floral creations.
Our pride is ensuring that you get exactly what you envisioned as a floral gift; attractively wrapped, a hand-written card message and the information you need to enjoy your gift. Whether you come into our store, call us, or shop online, our knowledgeable staff will do their utmost to ensure you get what you've asked for.

—Alta Vista Flowers
Phone:
613-733-4001

Address:
1221 Collins Ave (temporary)
Ottawa, Ontario



&copy 2007-2012 NWG Websites Ltd.