Nicole's Wedding Guide
The single best wedding directory for Metro Toronto.
Nina Duong Haute Couture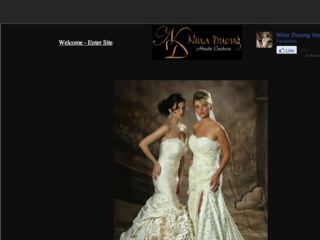 Nina Duong designs speak to any kind of woman; for the traditional, extravagant, unique or ethnically specific Nina?s attention to detail and high standard for quality ensure that every gown or special occasion dress it top of the line. The use of embellishments such as Swarovski crystals, lace and pearls give the gowns that extra flare that is eye-catching for any bride-to-be.

—Nina Duong Haute Couture
Phone:
416.921.5823

Address:
68 Scollard St.
Toronto, Ontario
M5R 1G2


&copy 2007-2012 NWG Websites Ltd.