Nicole's Wedding Guide
The single best wedding directory for Metro Toronto.
jclayphoto.com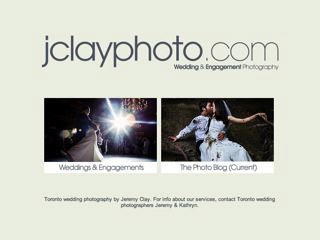 I appreciate you taking the time to visit my website. If you're here, then you've been looking for someone to make beautiful images for you - not just to record a time and place, but to capture the heart of a moment by fusing it in a still frame you can feel every time it's revisited. That is my goal with every photo I capture...to give a visual that not only represents, but recreates and invokes the feelings of a moment.
So, what does that mean to you? In essence, that you can rest assured knowing your moments will be given the attention they deserve. Photography is the furthest thing away from what I would consider the classic definition of a 'job' to be - it is always exciting, always enjoyable, and is simply my life's passion, which so very few people get a chance to pursue. I simply love shooting photographs, and believe that to be reflected in the images I take - I hope you feel the same!

—jclayphoto.com
Phone:
647.680.3168



&copy 2007-2012 NWG Websites Ltd.